AMTD partners with L.R. Capital, China Minsheng Financial Leasing and Dianrong.com to build a new online platform for financial assets management
September 28, 2015, Beijing – AMTD, China Minsheng International Financial Leasing Corp., Ltd ("CMIFL"), the financial leasing arm of China Minsheng Investment Corporation ("CMI"), and Dianrong.com, China's leading Internet finance company jointly announced on September 28, 2015 that they have reached a Memorandum of Understanding for partnership to establish a joint venture (JV). With strong support and availability of combined resources from these three shareholders, the JV will become the first truly cross-border online trading platform for securitized financial products, enabling global asset allocation, in mainland China, Hong Kong or broader Asia.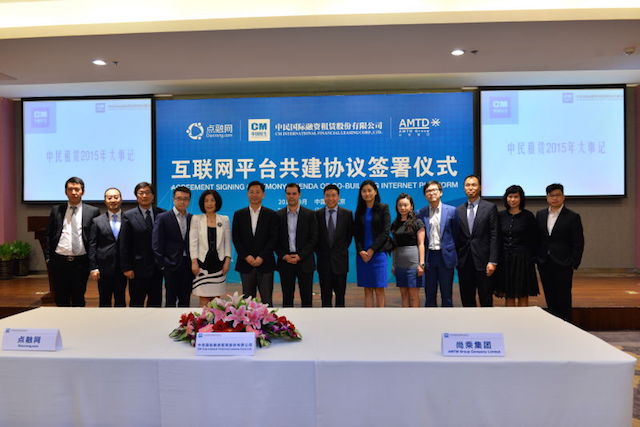 Mr. Kong Linshan, VP of CMI, Ms. Wang Rong, Chair of CMIFL, Mr. Soul Htite, founder and CEO of Dianrong and Mr. Sidney Ku, board member of AMTD Asset Management, attended the signing ceremony on that day. Ms. Amy Wong, Chief Administration Officer of L.R. Capital was also invited to join the ceremony. According to representatives from these shareholders, the JV is dedicated to enabling mutual access for onshore and offshore investment and financing channels (in particular, mutual access for offshore capital and onshore/offshore financial products), and building a cross-border online trading platform for securitized products leveraging internet finance technology.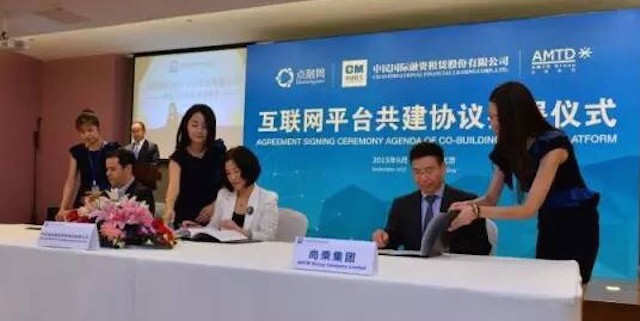 The JV will utilize and activate CMI's onshore and offshore project resources. The new financial platform will segment and package underlying assets by sector, geography and risk category in order to reduce concentration risk of single investment. CMIFL is the leasing platform of CMI and Hana Financial, South Korea's leading financial group.
In addition, as China's leading internet finance technology firm, Dianrong will provide world-class technology support to the cross-border platform to be built by the JV, helping to improve efficiency and quality of its financial services and build a truly global online asset management platform.
AMTD is a leading independent wealth management and asset management Company in Hong Kong, and owns significant customer data and a strong client base for wealth management. As such, AMTD will bring in core customer resources, management control and compliance process of traditional financial institutions, and big data-driven risk management framework, to further protect the interest of investors and partners.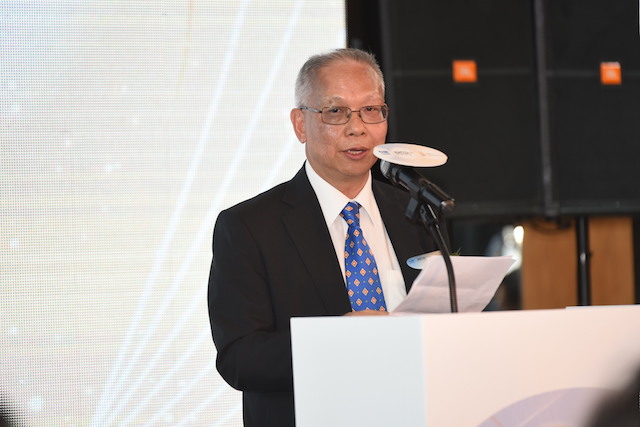 The JV will receive strong support in terms of both resource and capital from its shareholders, namely, CMIFL, Dianrong and AMTD. This collaboration is committed to integrating and connecting high-quality onshore and offshore projects and capital. It will start all-around partnerships with more world-class financial institutions to connect more global capital, customer channels and resources, promoting its global competitiveness and influence.