AMTD completes US$300mm 3yr bond offering for China South City
On 2 March 2017, China South City Holdings Ltd. (1668.HK, "China South City" or the "Company" ) successfully priced a Regulation S US$300mm 3-year senior bond offering (the "Transaction"), with AMTD acting as the Joint Bookrunner and Joint Lead Manager and assisted the Company to access the best market window. Issuer of the Transaction is the listed entity China South City Holdings Ltd., with its overseas subsidiaries providing guarantee, and the bonds will be listed on the Singapore Exchange (SGX), the use of proceeds will be for refinancing the Company's existing indebtedness and general corporate purpose. China South City is rated B/B (S&P/Fitch), while the issue ratings are at B-/B (S&P/Fitch).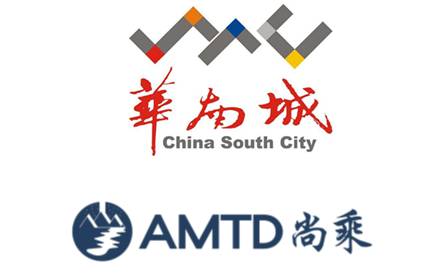 The Transaction represents the 12th offshore fundraising transaction in the property sector completed by AMTD over the past 12 months, and the 6th transaction in the same space this year, demonstrating AMTD's leadership and influences in high-yield property bond market. Prior to the aforementioned transactions, AMTD has also assisted in a number of onshore and offshore developers' overseas financing transactions, which include various Chinese leading property developers, namely Xinhu Zhongbao (600208.CH), Ronshine China (3301.HK), Yuzhou Properties (1628.HK), Guangzhou R&F Properties (2777.HK), China Aoyuan Property Group (3883.HK), Carnival Group (996.HK), Jiayuan International, as well as Regal Hotels (78.HK), one of the largest hotel operators in Hong Kong; Emperor International Holdings Limited (163.HK), a famous Hong Kong-listed real estate company; Far East Consortium International Limited (35.HK), a diversified Hong Kong-listed property operator and developer founded by renowned businessman Mr. Deacon Chiu.
With its unique business model, the Company not only sells and leases well-designed quality trade center units for businesses to display and sell their products, but also provides the occupants and their clients with one-stop convenient supply chain solutions that include a full range of facilities and services; and on the back of precise market timing and strong distribution capabilities of AMTD and other syndicate banks, the Transaction drew overwhelming demand from various institutional investors. The orderbook eventually recorded around 6x oversubscription with over USD$1.8bn orders, with AMTD contributing with quality anchor orders. The reoffer yield was 6.125%, significantly tightened from the initial pricing guidance of 6.5% area.
As the Joint Bookrunner and Joint Lead Manager on the Transaction, AMTD has demonstrated its excellent distribution capabilities and solid client base by contributing numerous high-quality orders. Other syndicate banks of the Transaction comprised of international and Chinese brokers and financial institutions including UBS, Bank of America Merrill Lynch, Credit Suisse, Citi, HSBC, Nomura, and Guotai Junan International.
The Transaction represents the 7th bond offering successfully completed by AMTD since the beginning of 2017. In the past 12 months, AMTD has completed 27 bond transactions for various companies, serving multiple leading Chinese and Hong Kong property developers; large enterprises namely China Huarong Asset Management (2799.HK), one of China's four leading financial asset management companies, China Minsheng Investment Group, the largest privately-owned investment company in China, Yunnan Provincial Investment, the largest comprehensive holding company in the Yunnan Province; onshore and offshore financial institutions such as Sirius International Insurance Group, a world-renowned insurance and reinsurance group and Zhongrong International Trust, one of the largest trust companies in China.
About China South City
China South City Holdings Ltd. (1668.HK), listed on Hong Kong Stock Exchange since September 2009, is one of the leading developers and operators of large-scale integrated logistics and trade centers in China. China South City provides a comprehensive trading platform for domestic and international wholesale suppliers, buyers, manufacturers, distributors and end-users of products ranging from raw materials to finished products. China South City has undergone expansion across the nation since its establishment in 2002, with its operation now covering Shenzhen, Nanning, Nanchang, Xi'an, Harbin, Zhengzhou, Hefei and etc.