AMTD Group announces to join the UN Global Compact
In June 2017, AMTD Group announced to join the UN Global Compact, committing to fully support the ten principles of the UN Global Compact in the four areas of "Human Rights", "Labour", "Environment" and "Anti-corruption". AMTD Group will further promote corporate social responsibility (CSR) activities throughout the world and strive to contribute to the sustainable development of society. This is also the first financial service organization in Hong Kong that has successfully joined the framework of the world's largest Global Corporate Citizenship Initiative.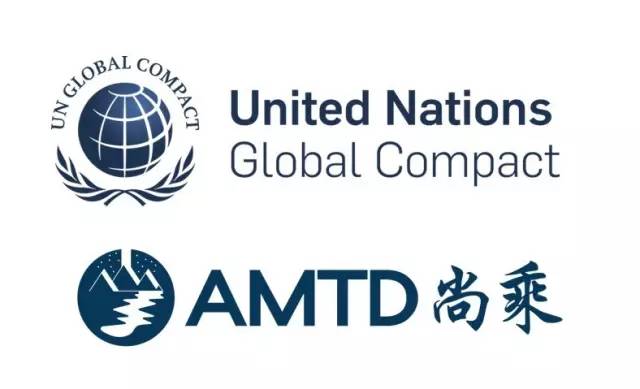 The United Nations Global Compact was initiated by the then UN Secretary-General Kofi Annan in a speech at the World Economic Forum held in Switzerland in 1999. It was officially launched at the United Nations Headquarters in New York in 2000. Up until now, more than 170 countries and leading companies from various industries have successfully joined, including Bank of America, DuPont, GE, Citigroup, PetroChina, China Development Bank, China Huaneng Group etc., and have become the world's most influential Global Corporate Citizenship Initiative Framework. The UN Global Compact requires participating companies to voluntarily fulfill the ten principles of the four fields of "Human Rights," "Labour," "Environment," and "Anti-corruption," and actively promote corporate social responsibility as a responsible corporate citizen, promote the achievement of the UN Millennium Development Goals and promote the realization of sustainable social development including the global economy.
As the largest Hong Kong-based investment management companies and the biggest local corporate insurance brokerage and risk solutions firm, AMTD has been widely recognized as a pre-eminent capital markets player with cross-border investment banking capability in Asia. AMTD Group has always been adhering to the principle of the United Nations Compact. With the charitable spirit of "Giving thanks to society and serving the public", it has consistently implemented corporate social civic responsibilities from different aspects including supported charitable activities, social services and education, caring for the disadvantaged groups, serving the public welfare, and promoting the sustainable development of enterprises and society. AMTD Group specially established the "AMTD Foundation" to support social welfare services and youth innovation education in Hong Kong. In addition, AMTD has been co-hosting Charity TV Show with Caritas, the largest public charity organization in Hong Kong for 10 consecutive years; Jointly hosted the 3rd amfAR Gala Hong Kong with the world's largest Foundation for AIDS research; Co-organized the National Day Charity Gala charitable activities for disabilities ("伤健共融飞翔梦") with HKYMCA and Hong Kong Federation of Professionals; Jointly organized "Warming Community" charitable activities with HKYMCA and supported the campaign of "Beautiful Chinese Rural Teaching Activities" etc. In view of the achievements of the AMTD Group in promoting social progress and serving the public welfare over the past ten years, AMTD has won the "Caring Company" honour awarded by the Hong Kong Council of Social Service (HKCSS) in 2017, in recognition of The Group's unremitting efforts to implement good citizenship and corporate social responsibility.