AMTD completed the first US IPO deal, assisting X Financial to list on NYSE
On 19th September 2018 Eastern Time, China leading Fintech company X Financial (NYSE: XYF) was officially listed on NYSE. AMTD was appointed as a Joint Underwriter of X Financial IPO and assisted X Financial in completing the IPO successfully in the US. This IPO deal also made the first US IPO deal completed by AMTD in the company history and another successful case for AMTD in assisting new economy company to land on the international capital markets after completing the IPO deals under Weighted Voting Rights (WVR) structure for leading new economy companies such as Xiaomi and Meituan. This is the 8th IPO issuance of AMTD in 2018.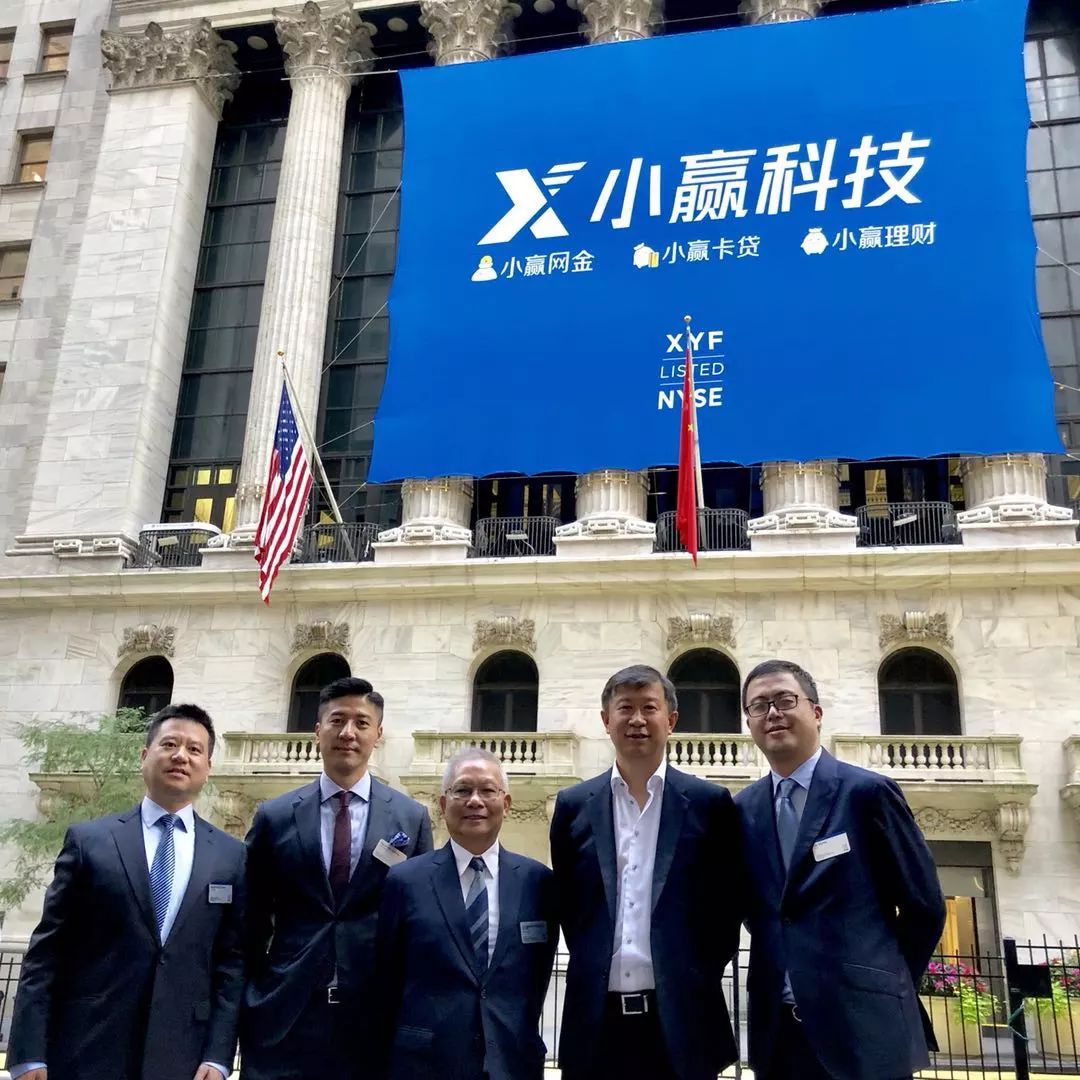 Marcellus Wong, Vice Chairman of AMTD Group (3rd left), and Philip Yau, Chief Financial Officer of AMTD Group (2nd left), represented AMTD Group to attend X Financial listing ceremony with Tang Yue, Founder, Chairman and CEO of X Financial (2nd right); Cheng ShaoYong, President of X Financial (1st left) and Zhang Jie, Chief Financial Officer of X Financial (1st right)
With the use of advanced Internet technology and big data, X Financial is a Chinese leading Fintech company which provides high quality online financial services. By affiliating with insurance companies, X Financial is the first Fintech company to provide credit assurance to its financing projects. X Financial is a strategic partner of ZhongAn Online P&C Insurance. The company is dedicated to serving high quality borrowers with outstanding creditability and wealthy investors. It was worth mentioning that Mr. Tang Yue, the Founder, Chairman and CEO of X Financial, was also the Founder, Chairman and CEO of ELONG INC. Thus, this is the second time for Mr. Tang to lead a startup to go listed on the US market.
X Financial offered 11 million shares of American Depositary Shares (ADS) globally in this IPO. Given that one share of ADS represents two shares of ordinary shares, 22 million shares of ordinary shares were issued in total. Each ADS was priced and offered at USD 9.5 per share and the total amount of fund raised was over USD 100 million. On the first trading day, X Financial was immediately pursued by investors and it was opened at USD 15 per share, which rose 57.9% compared with the listing price of USD 9.5. The highest intraday gain even reached 113.7%, reflecting the optimism and pursuance of X Financial by the US capital market.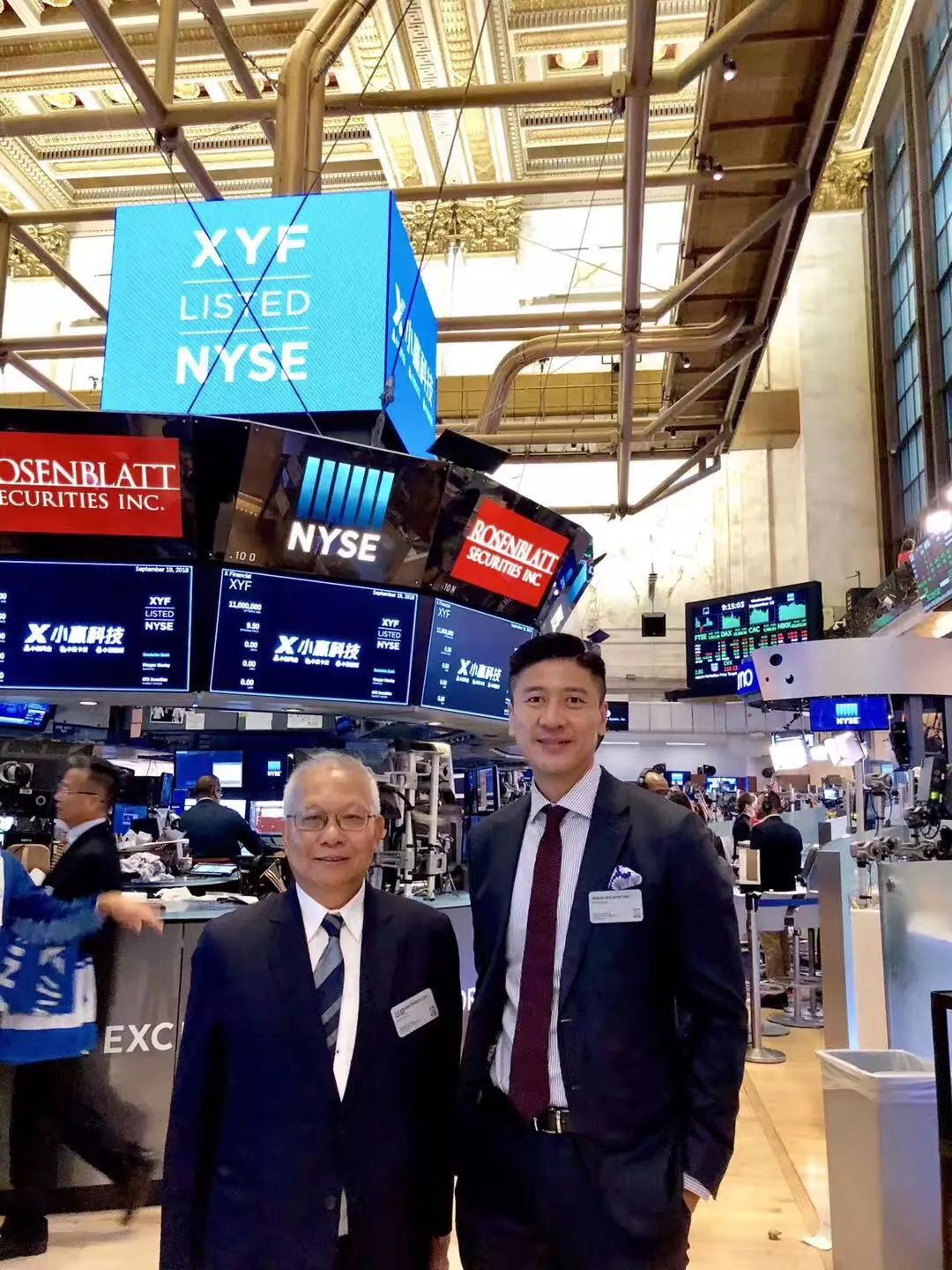 Marcellus Wong, Vice Chairman of AMTD Group, and Philip Yau, Chief Financial Officer of AMTD Group, were invited to attend the NYSE listing ceremony of X Financial
AMTD is always dedicated to promoting Fintech and innovative development, and proactively acts as the "super-connector" between technology and capital, bridging to facilitate cooperation between global leading Fintech companies, Internet technology companies and Asia capital markets. AMTD announced to be the exclusive strategic partner of Hong Kong Fintech Week toorganize Hong Kong Fintech Week 2018 along with InvestHK. As the officiating guest of the event, Calvin Choi, Chairman and President of AMTD Group, attended the launch ceremony with Carrie Lam, the Chief Executive of Hong Kong SAR. After jointly organizing the world's largest Fintech event, Singapore Fintech Festival 2017, with Monetary Authority of Singapore last year, AMTD once again worked together with local government to jointly organize Fintech event. Calvin Choi, as the sole representative of Hong Kong financial institutions, was named "2016 Fintech 35" by Institutional Investor, the globally renowned financial magazine. Moreover, AMTD has yielded fruitful results in fintech investments. In the Greater China region, AMTD partnered with Standard Chartered to strategically invest in Dianrong, a Chinese FinTech Company established by Soul Htite, co-founder of Lending Club, assisted Dianrong in introducing renowned international institutional investors including Government of Singapore Investment (GIC) and and South Korea's Hanwha Insurance, and joined hands with Dianrong to successfully incubate the FinTech market platform FinEX Asia in Hong Kong. In the North America region, AMTD made strategic investment in Credible Labs, a US Fintech company and student loan platform, and helped Credible Labs to be listed on the Australian Securities Exchange (ASX) successfully in 2017, a milestone and the largest tech IPO at ASX in 2017.